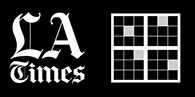 LA Times Crossword Answers
First and foremost we would like to thank you for visiting LATSolver.com. This page is dedicated solely to the world-famous LA Times Crossword Puzzle Answers and Solutions. We are a group of friends who have been solving the LA Times Crossword for over 7 years now and we decided to share the solutions every single day with the rest of you. If something is wrong or missing kindly let us know and we will be more than happy to help you out!
Here are all the crossword clue solutions for December 6 2023. Today's puzzle has a total of 76 clues.
Clues Starting With